In a world filled with constant hustle and bustle, there are moments of quiet beauty and serenity that have the power to captivate our hearts and leave us yearning for more. These moments inspire us to pause and savor the visual delights that life has to offer!
From picture-perfect snow scenes to a pristine pyramid of M&Ms that will leave your mouth watering, these images tell stories of nature's intricate design, the creativity of individuals, and the surprising harmony that can be found in the most unusual places!
In our quest for moments that soothe the soul, we have gathered a collection of satisfying photos that will undoubtedly make you crave for more!
Three Heads Are Better Than One!
In this captivating image, we see the heads of three iconic American presidents skillfully extracted from their respective coins. Each stands as a symbol of their lasting impact on the nation's history. Abraham Lincoln's silhouette graces the cent, reminding us of his pivotal role in preserving the United States during the Civil War and his dedication to ending slavery. Thomas Jefferson, the face behind the nickel, was the author of the Declaration of Independence.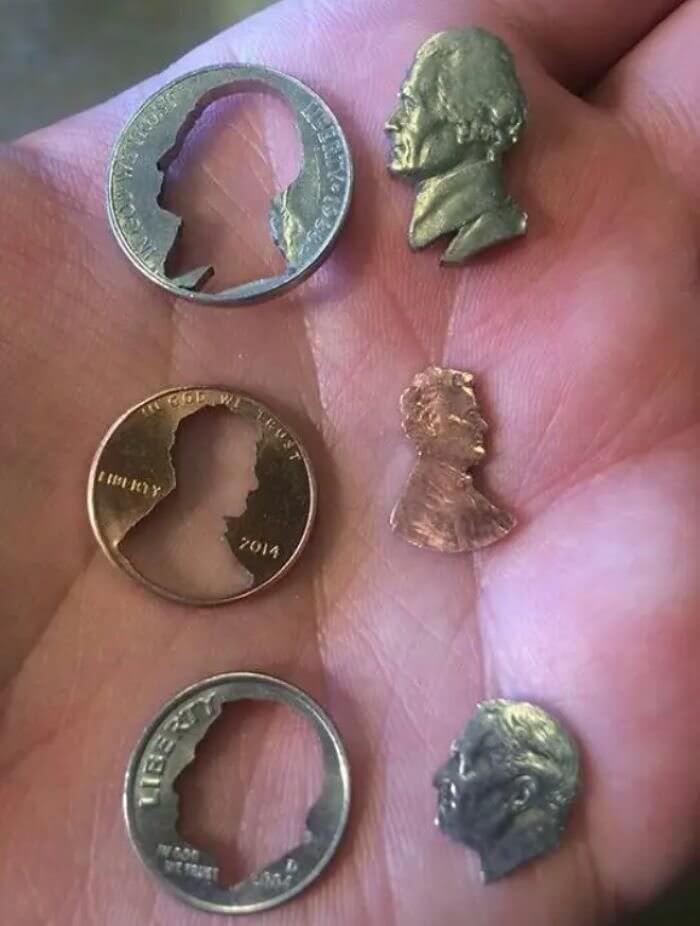 Franklin Roosevelt, portrayed on the dime, was a transformative figure during the Great Depression and World War II. It's a fascinating image that makes us appreciate the significance behind each coin in our pockets!
It Appears to Be Swimming up His Arm!
A tattoo that defies logic emerges in this striking image! The crocodile, meticulously inked on the person's arm, seems to defy gravity as it floats effortlessly above the skin's surface. What makes this tattoo even more mesmerizing is its carefully crafted shadow on the wearer's arm, adding an extra layer of depth and realism to the design. It leaves us in awe of the tattoo artist's skill and creativity!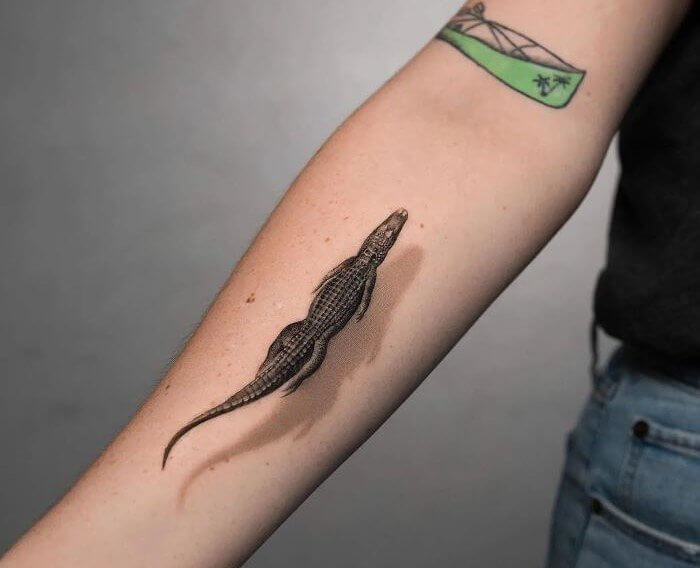 The precision with which the tattoo is executed gives the reptile an almost lifelike quality. It's as if it could leap into action at any moment. It's a simple but powerful image!
A Mesmerizing Layered Jelly Cake
This mouthwatering image presents us with a culinary masterpiece that's almost too beautiful to eat. The cake is a symphony of colors and flavors, showcasing perfect layers of vibrant blue, green, red, and pink, each separated by delicate, pristine white layers. It promises a tantalizing taste experience with each bite. The precision with which the layers are stacked and the vividness of the colors make this jelly cake a true visual delight!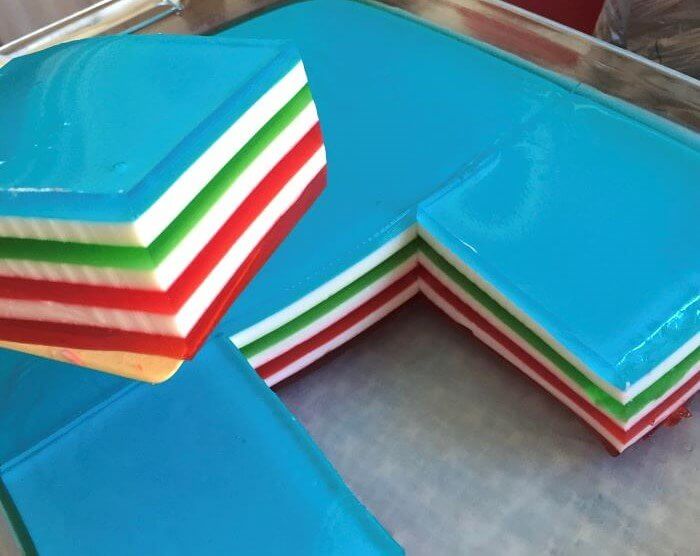 While this cake's appearance may tempt us to admire it as a work of art, the anticipation of savoring its flavors is equally compelling. Culinary creations can be sensory experiences that evoke wonder and delight!
These Transparent Gemstones Are Just Like Candy!
Here, we have a captivating display of translucent gemstones, each resembling a delectable piece of candy as they catch the light in the person's hand. The stones come in an array of striking colors, including vivid green, sunny yellow, soft pink, royal purple, and serene blue, each one radiating its unique charm. They invite us to appreciate the natural beauty of the Earth's depths and the secrets of time and geology!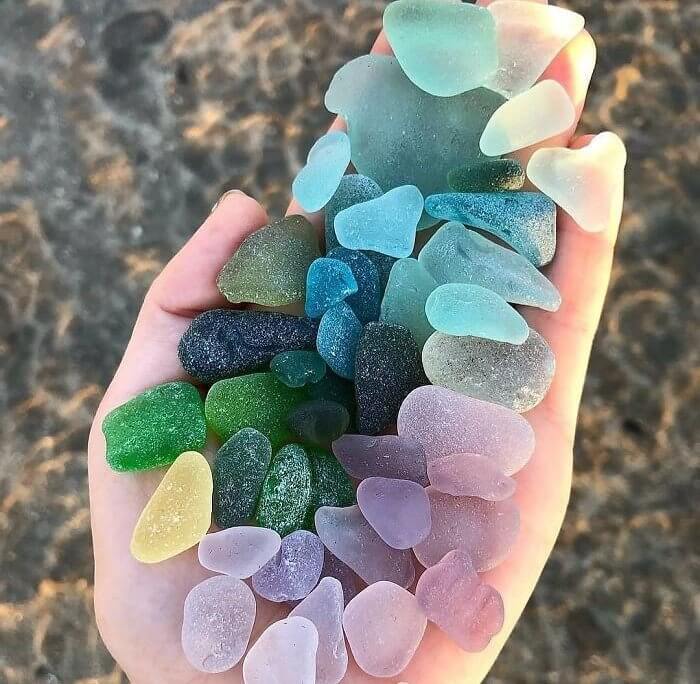 It's hard not to be entranced by their allure. They serve as a reminder that the natural world can produce treasures that rival the most exquisite man-made creations!
A Crescent Moon Beneath a Breathtaking Sky
In this serene and enchanting scene, the photographer has skillfully captured the tranquil moment of sunset. Beneath the breathtaking sky painted with gold and orange hues, a magnificent bridge graces the landscape. The bridge's arch, which is beautifully illuminated, casts a warm, welcoming glow. As you gaze upon this bridge, it appears to have transformed into a perfect crescent moon, thanks to its reflection in the calm river below!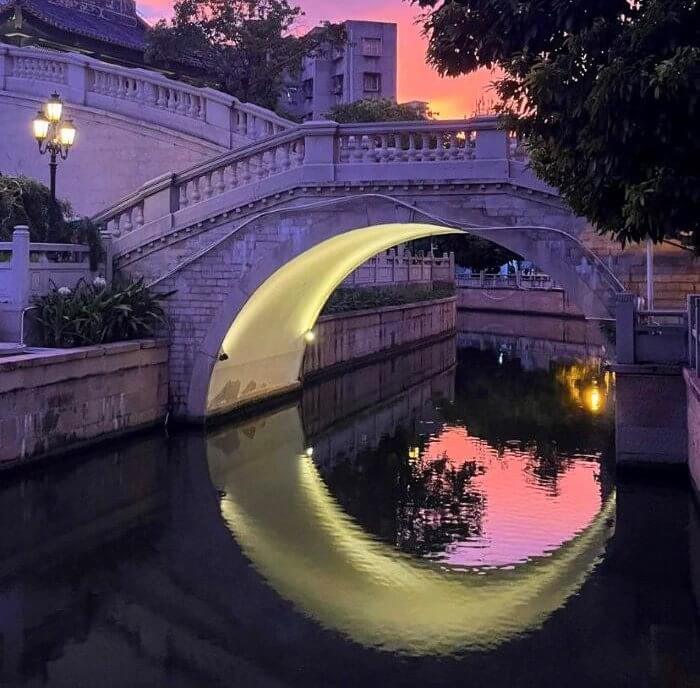 The mirrored crescent adds an element of surreal beauty to the scene, blurring the line between reality and fantasy. Nature and human design have joined forces to create a truly magical moment frozen in time!
Mystique's Marvelous Transformation at Comic-Con
This talented cosplayer has truly mastered the art of costume transformation at Comic-Con. Her choice of attire is none other than the iconic Mystique from the X-Men universe. However, what sets her portrayal apart is the clever twist she brings to the character. She has merged two worlds seamlessly, presenting a costume that's half Mystique and half U.S. Army officer. Her portrayal captures Mystique's versatility and adaptability while paying homage to her ever-changing nature!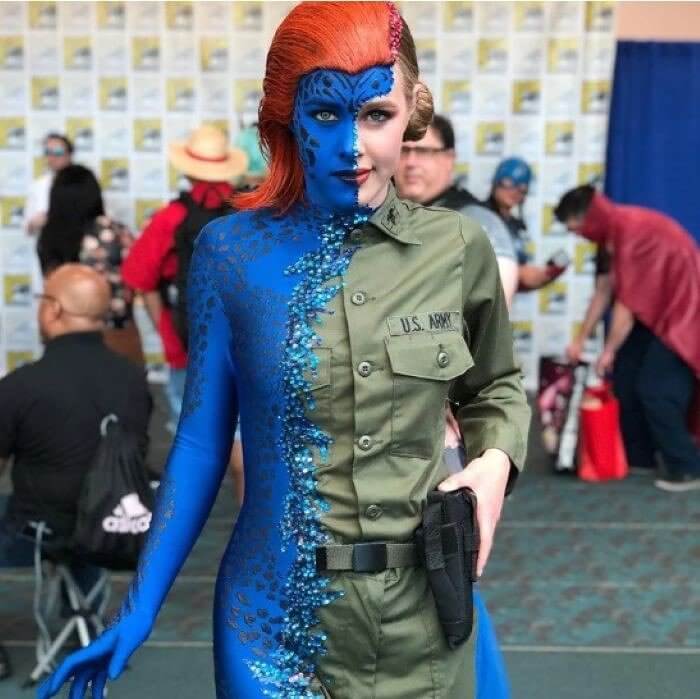 It's a testament to the creativity and dedication of cosplay enthusiasts, who bring beloved characters to life in imaginative and unexpected ways, earning admiration and applause from fellow fans at events like Comic-Con!
Hollowed Watermelon Halves
Both halves of a watermelon hold a captivating secret, as their juicy insides have been expertly scooped out, leaving behind only their thin green shells. This unexpected sight evokes curiosity and wonder, as the juicy, refreshing interior has been completely removed, showcasing the skill and precision of the person responsible for this unique transformation. The precision required to achieve such perfectly hollowed watermelon halves is truly remarkable! What a treat!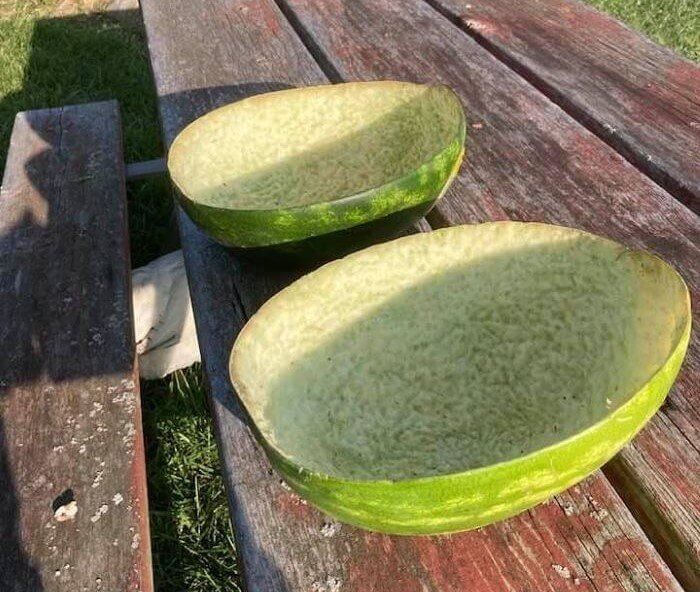 Whether intended for a special occasion or simply a creative culinary experiment, these hollowed watermelon halves leave us both astonished and inspired by the endless possibilities of food as art!
A Picture Perfect Snow Scene
Nestled in a pristine winter wonderland, this charming white wooden home stands as a beacon of serenity and beauty. Following a heavy snowfall, the scene is nothing short of picture perfect, evoking a sense of tranquil enchantment. The thick, powdery snow blankets every surface, transforming the landscape into a magical world of tranquil elegance.  It's as though nature has gently draped a soft, white quilt over this cozy abode!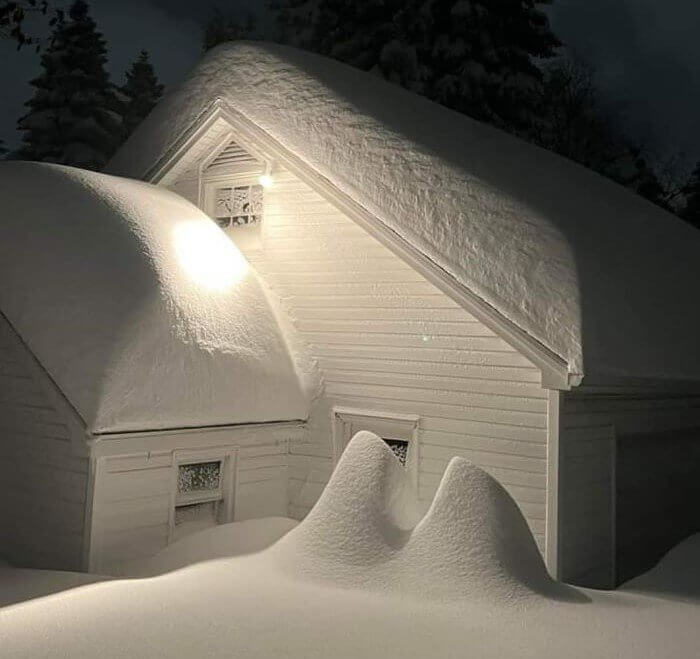 The untouched snow on the roof and ground exudes warmth and invites thoughts of crackling fires, hot cocoa, and the cozy comforts of winter. The world seems to pause as we bask in the beauty of the season!
Astonishing Rock Splitting Artistry!
Astonishing craftsmanship unfolds in this remarkable image, where an artist has executed a feat that defies the laws of nature and gravity. Behold a colossal rock, its top half severed with incredible precision. What sets this creation apart is the ingenious use of liquid metal, which has been meticulously applied to the cut surface, lifted, and allowed to harden. The upper section of the rock appears to defy gravity!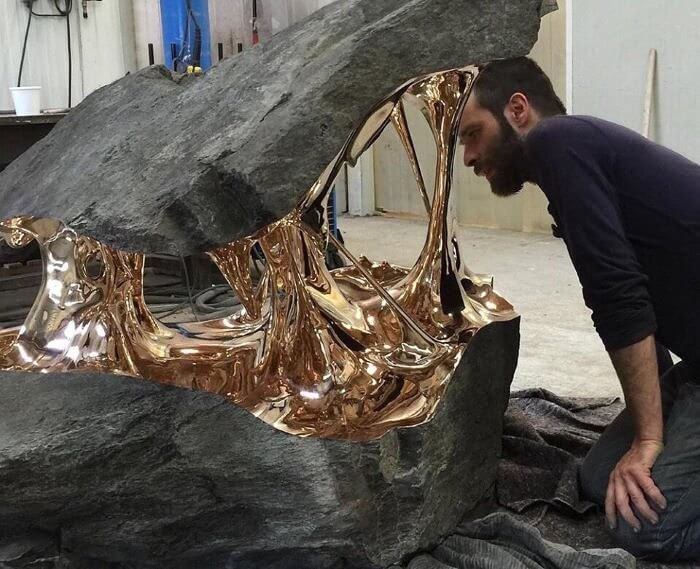 The top half is suspended by the hardened, gooey strands of metal that cling to both sides. The contrasting textures of the rugged rock and the shimmering metallic threads are extraordinary!
Morning Frost Covers a Sculpted Embrace
A lifelike statue captures the essence of human connection and vulnerability. On a simple bench, a man and a woman sit, their presence so real it seems as though they might awaken at any moment. The woman, covered in a cozy blanket, leans against the man, seeking warmth and solace in his embrace as they sleep. The man, clutching a suitcase under one arm, suggests he will soon be taken from his love!
Covered in the delicate lace of morning frost, It's a moment of quiet intimacy where love, companionship, and the anticipation of life's journey are frozen in sculpted perfection!
A Perfectly Unveiled Dahlia
A portrait of nature's perfection! This fully opened dahlia embodies the pinnacle of floral beauty. The intricacy of design found within its delicate petals exudes an aura of purity and elegance. As we gaze closer, the heart of the dahlia unveils a subtle hint of pink that adds depth and intrigue to the overall composition. Around this core, a faint halo of golden yellow gently radiates, followed by a soft dusting of pink throughout.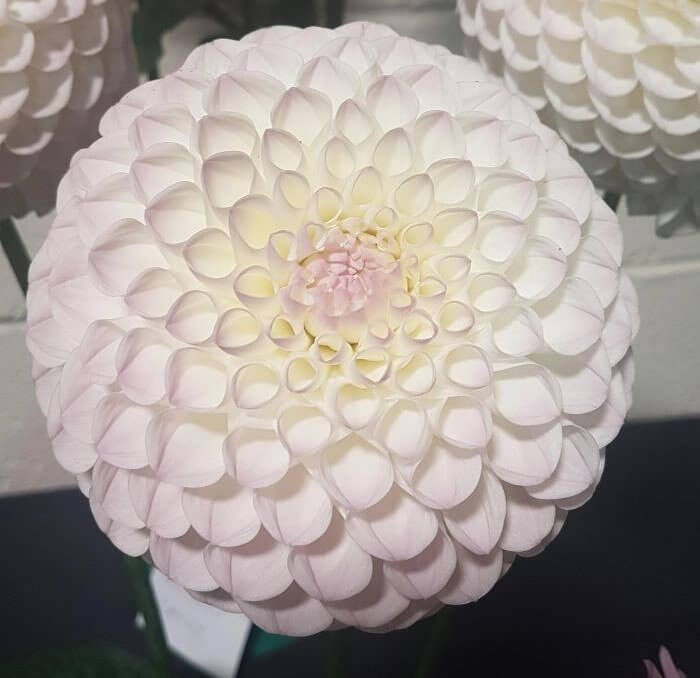 This dahlia, in its flawless form, reminds us of the breathtaking beauty that exists in the natural world and the artistry that nature is capable of!
The Arrival of Autumn's Paintbrush!
A delicate strand of Virginia creeper drapes gracefully from a wooden fence, and its transformation serves as a living testament to the changing seasons. Fall is well and truly on its way! At its base, the creeper's leaves remain vibrant and green, clinging to the remnants of summer's warmth. However, as our gaze travels downward, a gradual shift in color unfolds. The leaves transition into a soft yellowish-pink! Nature's ombre!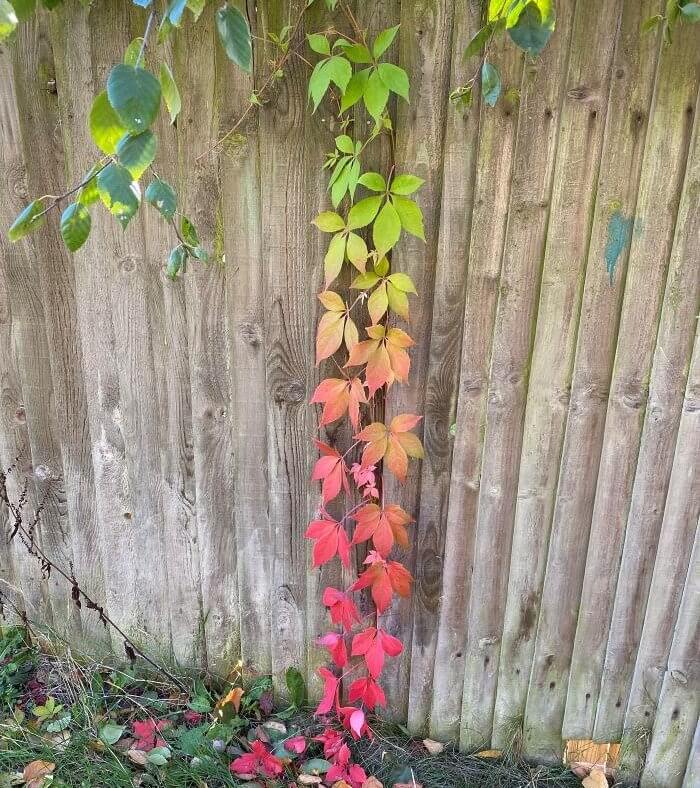 With each inch, the hue deepens into richer shades of pink, culminating in a nearly plum-colored tip. It's the magic of nature's paintbrush. The shifting of seasons can transform even the simplest scene into a vivid spectacle!
Back In Black!
Amidst a sea of traditional homes, one exceptional residence takes center stage, captivating attention and stirring intrigue with its bold and unconventional design. In a striking departure from convention, everything on this property, from the elegant building itself to the steps leading up to its entrance, the surrounding boundary wall, and even the car parked in the driveway, are all black. With ornate details and intricate trimmings, this home really stands out!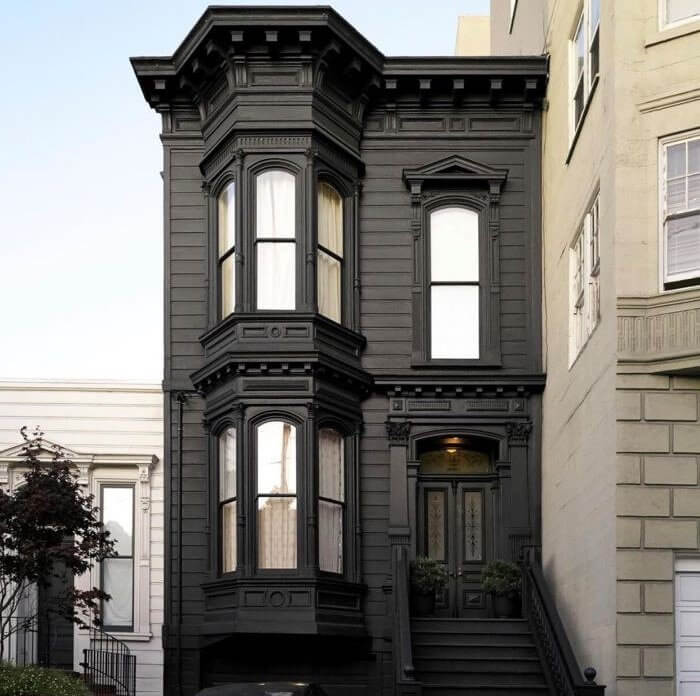 This image serves as a reminder that homes can be expressive works of art. It celebrates the power of individuality and the unique ways in which people choose to make a statement!
The Yogurt Bear: A Work of Shelf Art
Whoever stocked these shelves at the supermarket had plenty of time on their hands. The creative and patient individual has orchestrated a remarkable work of art using the colorful variety of yogurt flavors available. Amidst the neatly arranged shelves, an awe-inspiring sight emerges—the formation of a colossal bear meticulously crafted entirely from yogurt containers. The attention to detail required to arrange the yogurt flavors into the shape of a bear is extraordinary!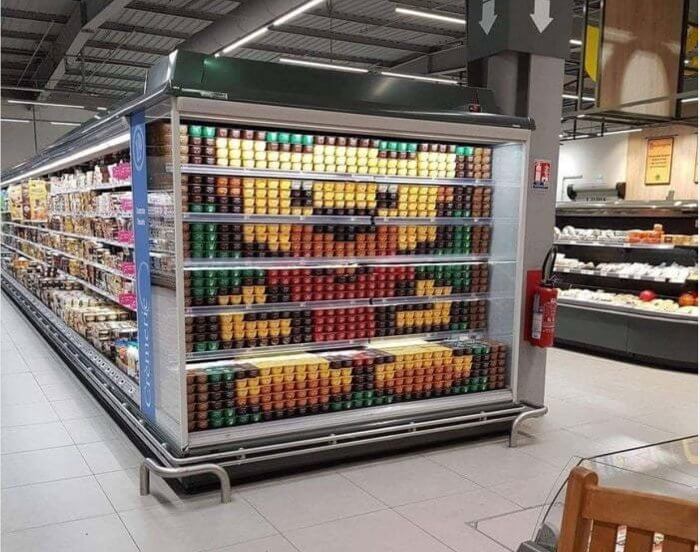 Each container, with its unique color and label, serves as a pixel in this edible masterpiece. The result is a delightful and unexpected surprise for shoppers passing by!
A Pixelated Bench Shadow
In a captivating play of light and perception, this image captures a truly unique moment. The shadow cast by a simple bench defies the laws of nature as it morphs into a mesmerizing display of pixelation. As the sunlight interacts with the bench's form, the shadow becomes almost digital, breaking down into tiny, square shapes like pixels on a screen. This optical illusion creates an intriguing and thought-provoking visual spectacle!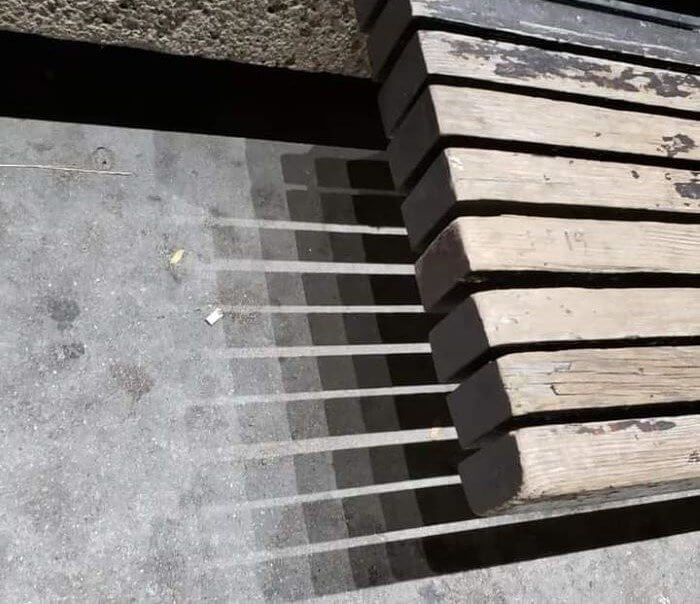 Beauty can be found in the interplay of light and shadow, where everyday objects can transform into captivating works of art when seen from a different perspective. Well spotted!
Who Knew a Simple Fence Could Look So Amazing?
In a landscape defined by its bone-chilling cold, an ordinary wire fence has been transformed into a mesmerizing work of nature's artistry. The relentless icy winds that sweep through this frigid terrain have played a remarkable role in reshaping the fence's appearance. The once-flat squares of the wire fence have taken on a stunning 3D dimension, resembling the intricate structure of a frozen honeycomb. It must be really freezing in this area!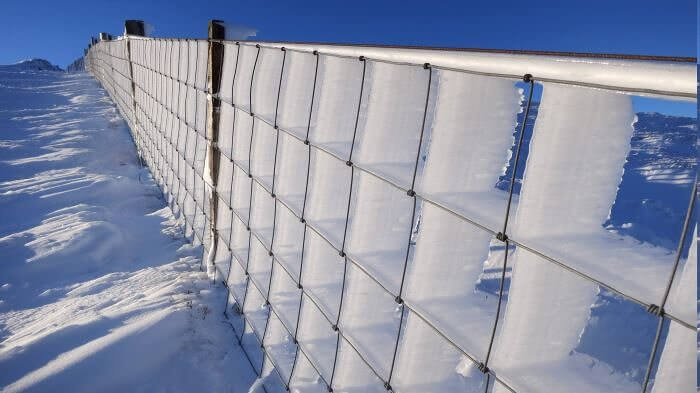 This image reminds us of the beauty that can emerge from the harshest of environments, where nature's handiwork can create breathtaking scenes that challenge our expectations. What a beautiful scene!
This Chinchilla Has Eaten "ALL" the Pies!
Prepare to be charmed by the fluffy, gray, and white chinchilla that takes center stage in this image. This little creature exudes overwhelming cuteness with its soft fur and endearing appearance. However, something particularly enchanting about this chinchilla sets it apart. As it playfully turns around, its plumpness creates a perfect ball shape. This chubby, fluffy chinchilla's roundness is so delightful and unexpected that you can't help but smile!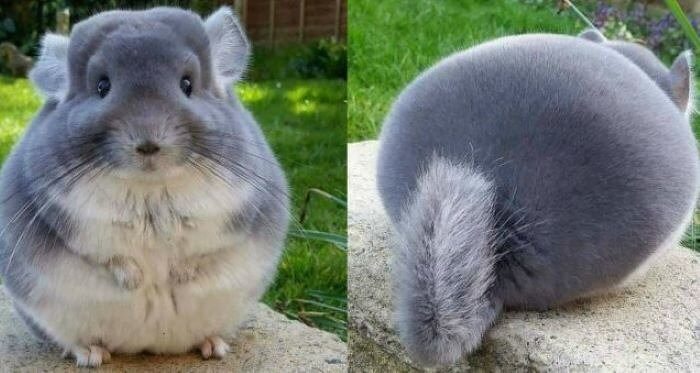 Sometimes, in the most unexpected ways, nature can offer us a touch of fun and delight. It's a testament to the countless creatures that inhabit our world, each with unique and endearing qualities!
Peek-A-Boo! Homer Is Hiding in the Bushes Again!
The sheer artistry and attention to detail in this remarkable cross-stitch creation are baffling. Depicting the iconic character Homer Simpson in a comical yet classic moment, the image captures the essence of humor and creativity. Homer's attempt at hiding in the bushes, a memorable scene from the beloved Simpsons family, comes to life in this intricate cross-stitch work. The skill required to translate such a scene into a stitched piece is truly astounding!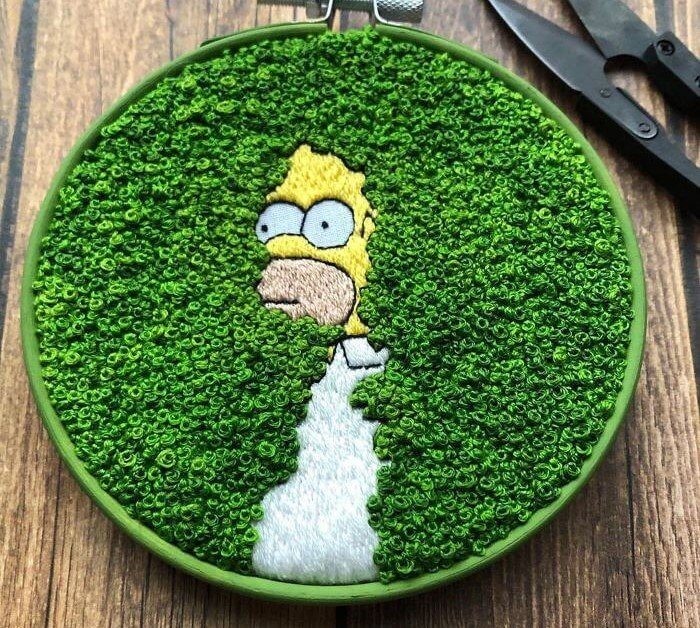 Every stitch contributes to the vivid portrayal of the animated character in a real-life medium. This image celebrates the art of cross-stitching as a form of self-expression and creativity!
Countless Hours of Wind Create a Masterpiece!
The featured masterpiece resembles a quarter section of a vinyl record, gradually fading away towards the top of the frame. The unexpected work of art has been sculpted by countless hours of wind and motion. What makes this artwork truly remarkable is that human hands did not craft it. The illusion of a vinyl record, a symbol of music and nostalgia, adds a layer of intrigue to the scene!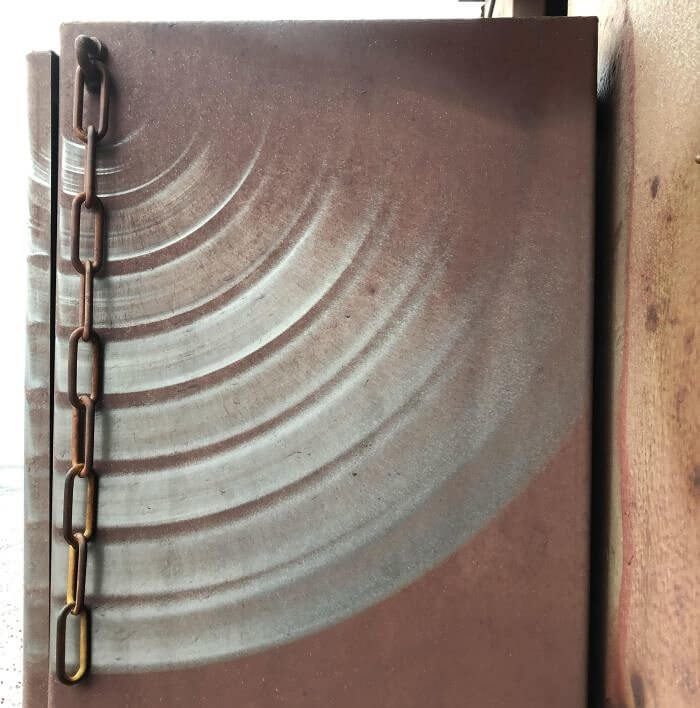 Elements like wind and time can collaborate to create unexpected beauty. It invites us to appreciate the ever-changing nature of art, even when it's formed in the most unconventional ways!
The Ever-Changing Beauty of the Cubic Window
Perched in the top corner of the room, this cubic window is a portal to an ever-changing canvas of beauty. Across the seasons and throughout the day, it offers a view that never ceases to inspire awe. In the morning, soft rays of sunlight filter through, casting a gentle warmth and painting the room with a serene glow. As the day progresses, the window becomes a frame for a shifting landscape!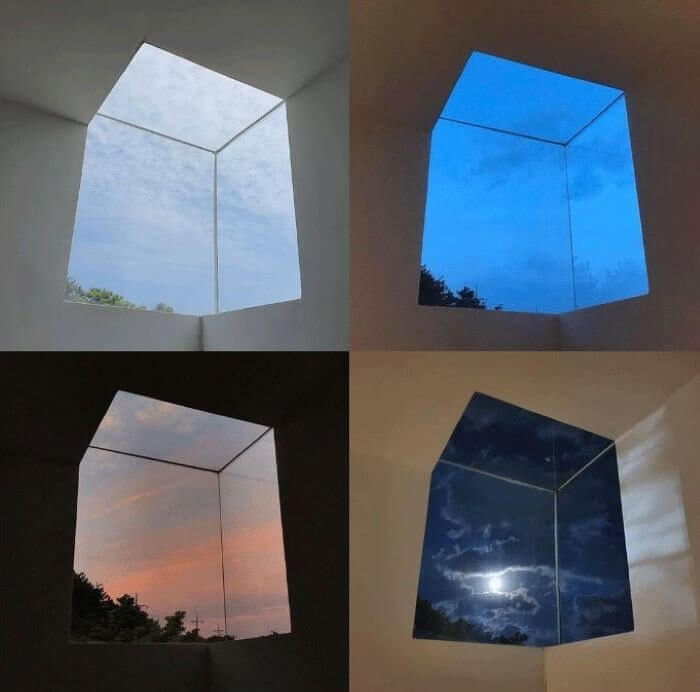 During the golden hours of sunset, the window transforms once again, with warm, dusky hues. And at night, it becomes a portal to the starry expanse, where celestial wonders adorn the sky!
The Classy All-Black VW Van
In a striking display of sophistication and style, behold the all-black VW van that exudes an air of timeless elegance. This classic vehicle has been transformed into a true work of automotive art, showcasing impeccable attention to detail. The defining feature of this VW van is the iconic V stripe on the front. It's the dividing line between glossy black on the lower half and matte black on the top!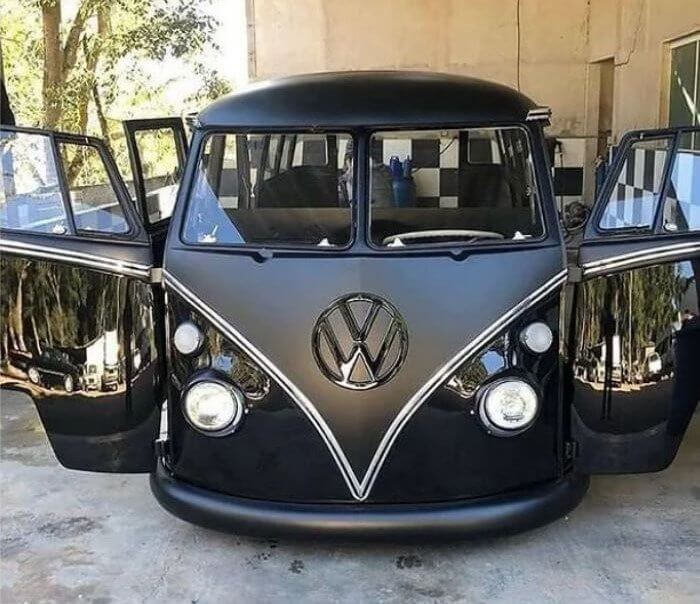 This clever design choice creates a harmonious yet visually striking contrast, accentuating the van's sleek contours and adding a touch of luxury. Even the iconic VW logo has been rendered in black!
Gummy Bear Rainbow Mosaic
For all the gummy bear enthusiasts out there, this image is a true delight. Within this container, an array of colorful gummy bears has been meticulously organized into twelve distinct sections based on their hues. The result is a mesmerizing and vibrant mosaic that showcases the full spectrum of gummy bear colors. As you gaze upon this edible artwork, the individual colors seamlessly blend together, creating a harmonious and eye-catching picture!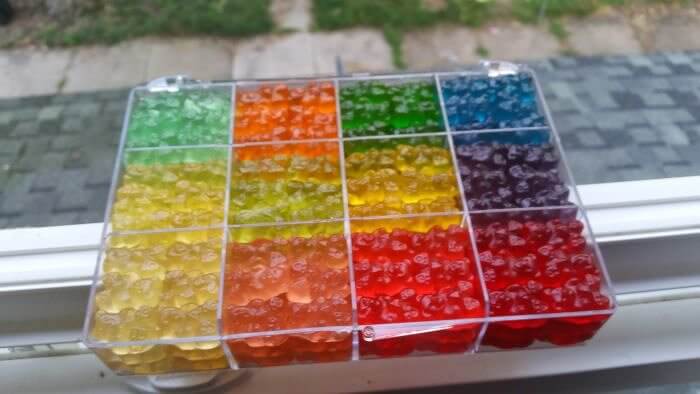 It's as if the gummy bears have transformed into tiny pixels in a mouthwatering masterpiece. This playful arrangement offers a feast for both the eyes and the taste buds!
A Peanut Butter Lover's Dream!
For peanut butter lovers far and wide, this image is a visual treat that will make your taste buds tingle with anticipation. A generous scoop of creamy peanut butter, taken directly from the jar, graces the frame. The peanut butter is so perfectly smooth and luscious that it appears both breathtaking and irresistibly mouthwatering. It's a moment of pure indulgence and satisfaction captured in a single frame! A perfect scoop!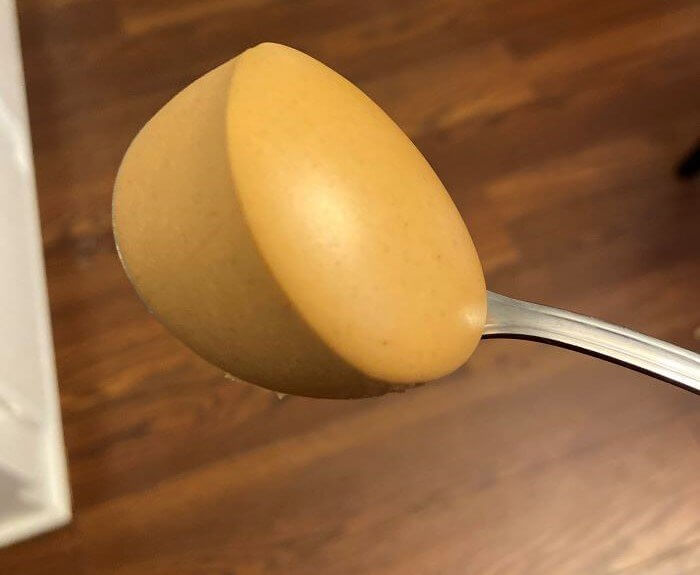 The peanut butter's flawless texture and glossy sheen create a source of pure joy and delight. This image pays homage to one of the most beloved spreads in the culinary world!
Sunlit Pastel Hanging Blinds
Here, a set of hanging blinds, adorned in a rainbow of warm and delicate pastel colors, take center stage. When the sun graces them with its presence, these blinds transform into radiant beams of joy, brightening the day for anyone fortunate enough to witness their gentle dance with the sunlight. The soft, pastel hues create a soothing and inviting atmosphere, evoking feelings of serenity and comfort in the room!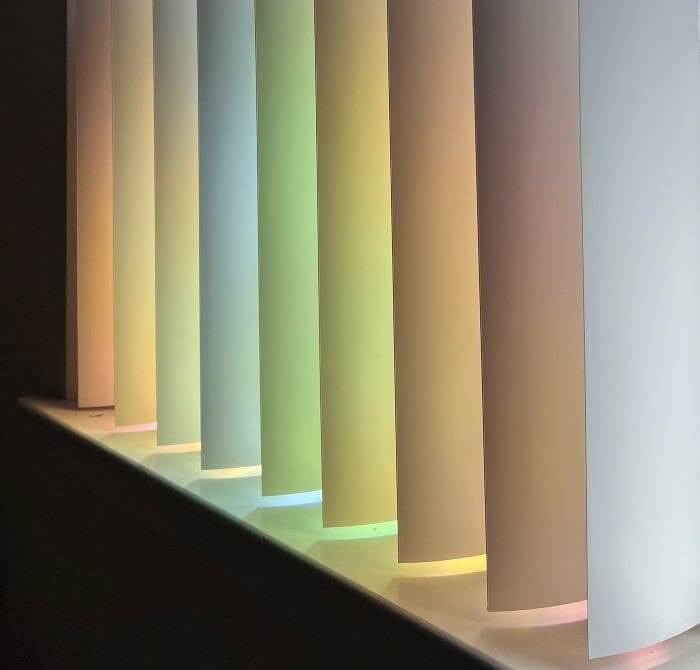 As the sun's rays caress the blinds, they come alive with a subtle yet enchanting glow, casting warm and inviting shadows throughout the room. Light and color can lift spirits with positivity!
Is This Man Floating on Air?
This man is standing on an escalator with sneakers whose stripes align so flawlessly with the escalator's steps that it creates an optical illusion. At first glance, it almost appears as if he has no feet at all! The precise alignment of the sneaker's stripes with the escalator's steps creates harmonious symmetry in the moment. It's a reminder of the beauty that can be found in the synchronicity of everyday life!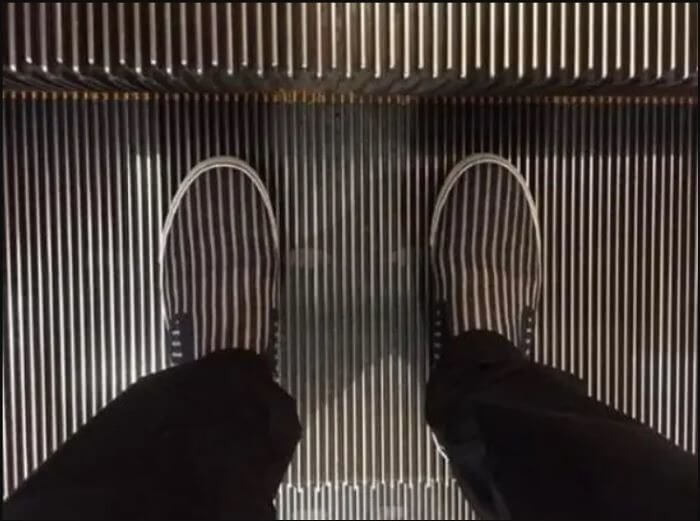 Sometimes, we can stumble upon moments of wonder that make us pause and smile. Maybe the design on this man's shoes should be known as escalator-print!
Perfectly Stacked T-Shirts!
In this tranquil scene within a clothing shop, neatly stacked and meticulously folded T-shirts on a shelf have taken on an unexpected transformation. Arranged in a gradient of colors, from pristine white to lush plum, subtle gray, and deep black, they resemble a collection of serene, plant pots. The gentle gradation from one color to the next mirrors the soothing transition of hues one might find in a serene garden!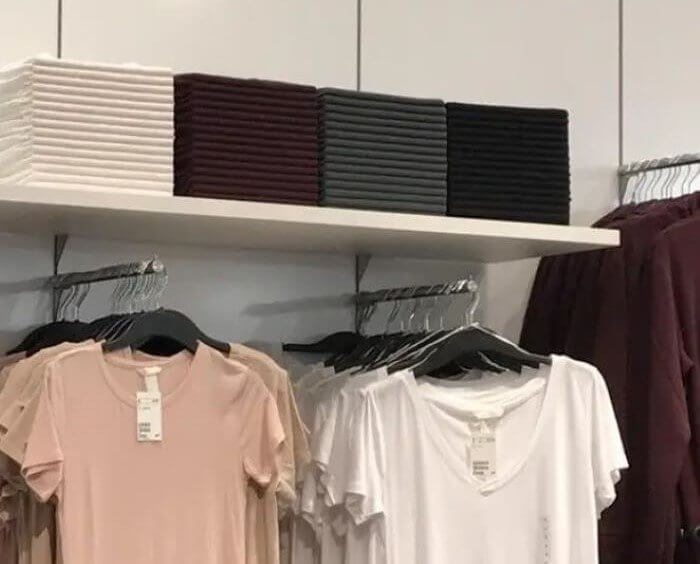 Thoughtful organization and color choices can create a visual oasis. It's a reminder that beauty often resides in the subtle details of our surroundings and everyday settings!
This Bookshelf Is a Masterpiece!
The dedication and patience of this book enthusiast shine through in a truly extraordinary display of book arrangement. The books, varying in size and shape, have been meticulously organized on a shelf, creating a breathtaking visual effect. What sets this arrangement apart is the careful consideration of not just the size but also the alignment of the book spines. The tops of the books are flawlessly in line, thanks to a dip in the shelf!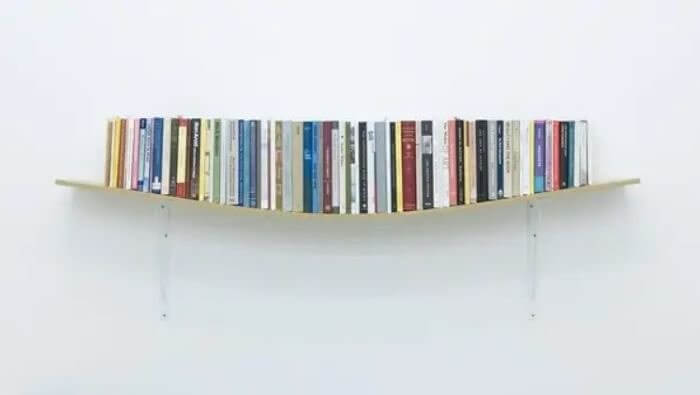 The shortest books are positioned at either end, framing the ensemble, while the tallest ones take their place in the center, where the shelf dips, creating a symmetrical masterpiece!
This Mesmerizing Juice Cooler Display
This image captures a convenience store cooler filled with various juice bottles. What makes this scene truly enchanting is the meticulous arrangement of nearly two hundred bottles, all lined up and color-coordinated to create a mesmerizing visual feast. The bottles, in their diverse hues, blend seamlessly like a vibrant rainbow. From rich reds to sunny yellows, lush greens, and deep blues, the spectrum of colors creates a harmonious and visually stunning composition!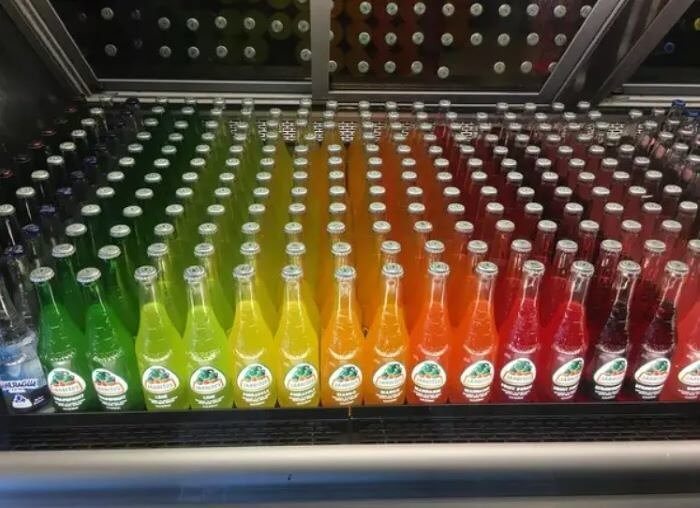 The display of bottles of juice at the convenience store is almost too beautiful to disturb. This carefully curated collection is a testament to meticulous organization and a keen eye for aesthetics!
The Genius of Nature
A most remarkable honeycomb that can only be described as a true masterpiece of nature's craftsmanship. With seven meticulously constructed layers, it has a striking resemblance to the awe-inspiring Ayers Rock (Uluru) in Australia. The honeycomb's intricate hexagonal cells, each painstakingly created by countless worker bees, form a symphony of geometric perfection. The layers, progressing from front to back, showcase the remarkable precision and artistry of these tiny architects of the natural world!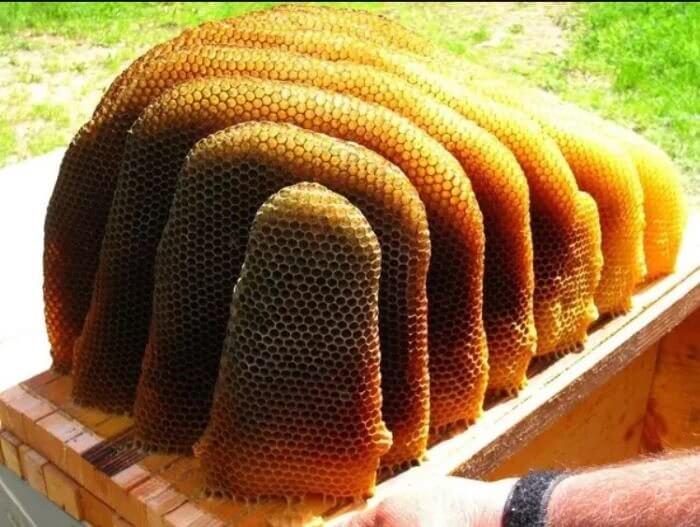 Much like the iconic Ayers Rock, this honeycomb stands as a symbol of nature's ability to create breathtaking structures with flawless symmetry and the tireless efforts of the natural world!
Miracles Can Happen in Unexpected Places!
This simple playground climbing frame has been transformed into an optical illusion. The semi-circular arch frame has been granted a magical makeover thanks to recent flooding in the area. It has now become a complete circle suspended in mid-air! The secret to this effect lies in the mirror-like reflection the water below creates. As the arch frame hovers above the water, its flawless reflection completes the circle and challenges our perception!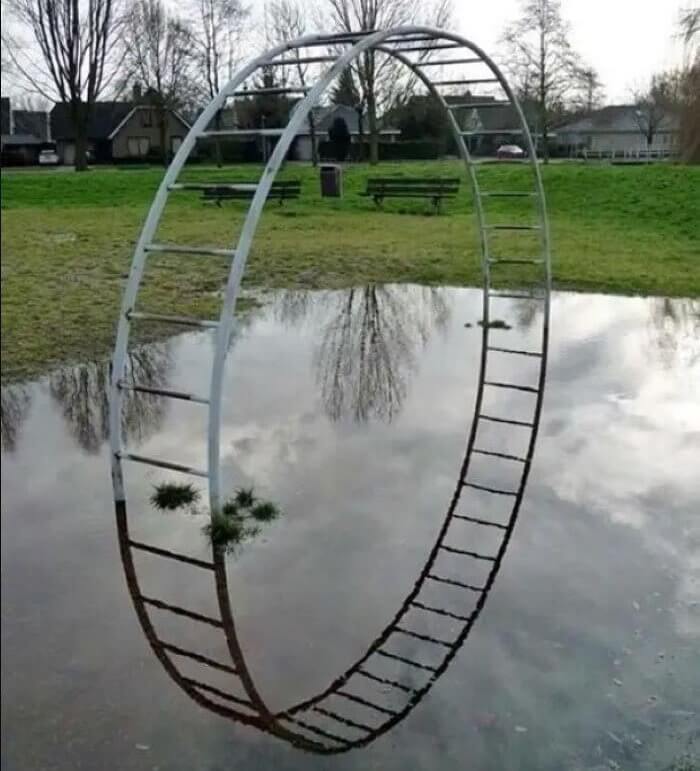 The interplay of light, water, and structure creates an enchanting moment of illusion and wonder. It's a scene that invites us to marvel at the ever-changing and unpredictable aspects of the world around us!
An Architectural Marvel in Sand
Behold the astonishing sand sculpture that graces the beach, a testament to the creativity and skill of its creator. This masterpiece exudes the essence of a modern architectural marvel, showcasing a symphony of corners, angles, and elevations that rival the work of a professional architect. Every facet of this sandy structure, from its precise corners to its meticulously crafted angles, speaks volumes about the talent and dedication that went into its creation!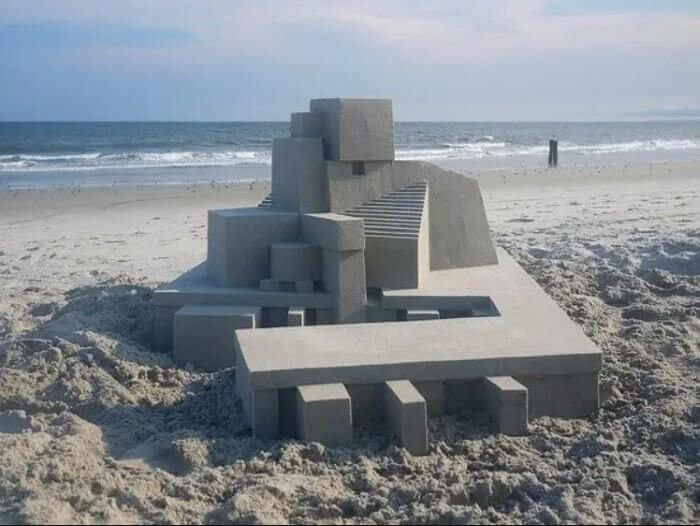 The flat surfaces, flawlessly executed, add an element of perfection to the overall design. It's a breathtaking sight that captures the imagination and leaves onlookers in awe!
The Beauty Is in Its Simplicity
Have you ever collected stones on the beach? Well, this individual has turned the act of collecting stones on the beach into a mesmerizing work of art. The result is a perfect square etched into the sand, where an arrangement of stones has been meticulously crafted to create a captivating gradient of colors. The carefully selected and positioned stones blend seamlessly into one another, transitioning from dark to light shades!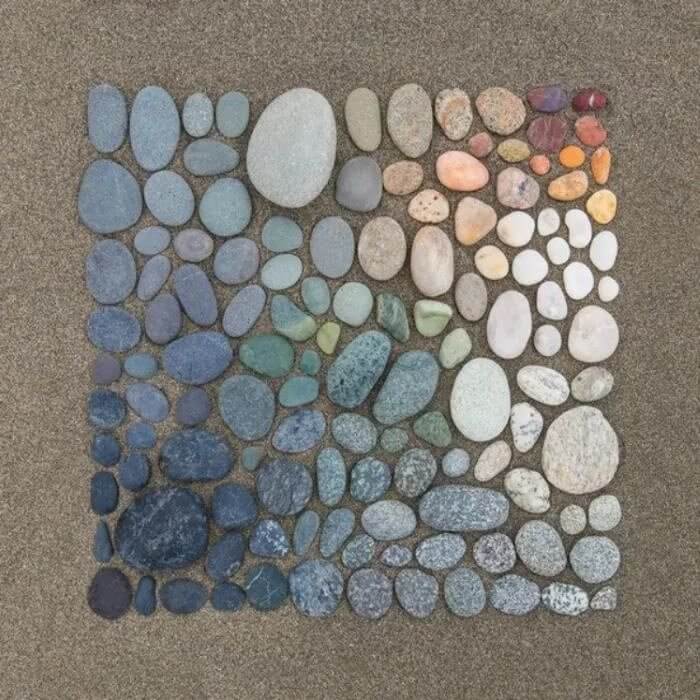 Shades of dark and light gray to a tranquil greenish-blue transform into pristine whites, delicate peach hues, and finally into vivid shades of orange and reddish-brown. It's simply beautiful!
Pink Camellias: Nature's Work of Art
In this close-up view of pink camellias, we are granted a glimpse into the awe-inspiring intricacy of nature's design. Each delicate petal, with its gentle shades of pink, unfurls in a symphony of exquisite detail and beauty. The camellia's petals, arranged in perfect symmetry, are a testament to the artistic genius inherent in the natural world. The subtle variations in color and texture create a mesmerizing composition, thanks to Mother Nature!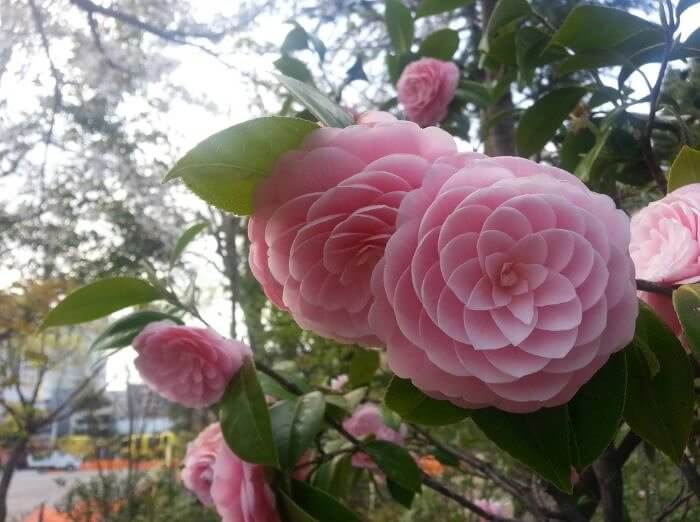 This image celebrates the artistry that can be found in even the smallest and most delicate of natural wonders. The world is filled with moments of breathtaking beauty waiting to be discovered!
What an Amazing Transformation!
In an imaginative display of creativity and playfulness, a young woman at the bookstore has ingeniously crafted a brand-new identity. By aligning her face with the portion of a book cover featuring a sexy, seductive woman on the verge of biting into a tempting apple, a whimsical transformation occurs. The seductive figure, with her vivid red lipstick and matching fingernails, blends seamlessly with the woman's own visage, creating a delightful illusion!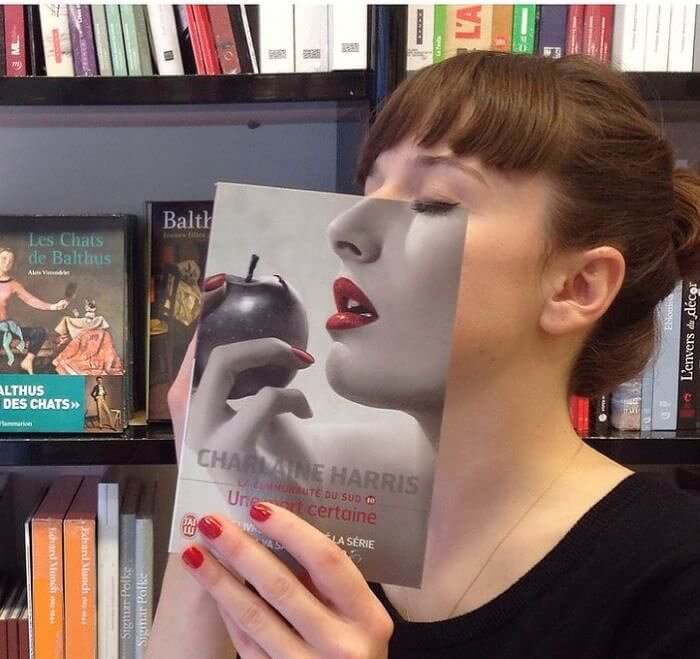 In this moment, the boundaries between fiction and reality blur, and the girl in the store momentarily steps into the shoes of a captivating character. I wonder what she really looks like!
A Majestic Ski Slope Wonderland
While this ski slope has been graced with a breathtaking backdrop of towering mountains on the horizon, the snow-covered landscape is a pristine canvas that nature has delicately painted with its own brush, creating a sight that is nothing short of spectacular. The untouched snow on the slope has formed in a most enchanting way, resembling the intricate pattern created by a giant comb. The symmetrical ridges and grooves showcase nature's artistic finesse!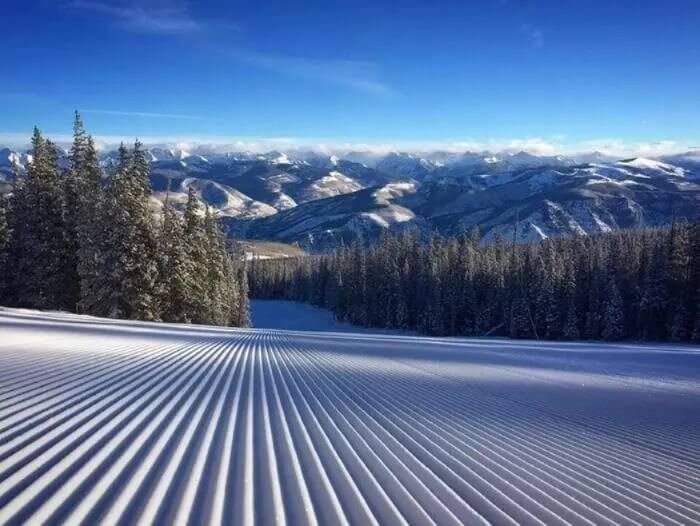 This image is a reminder of the unparalleled beauty that can be found in the winter landscape, where the interplay of snow and mountains creates a visual symphony that stirs the soul!
Weathered and Worn Vs. Original Splendor
In this captivating display of contrast, an old wooden garden bench takes center stage, showcasing a fascinating juxtaposition of the past and the present. The bench has been lovingly restored, but intriguingly, only on one half. The restored half gleams with a newfound vibrancy, its wood polished to a rich, warm hue that recalls its original splendor. Every grain of wood seems to tell a story of renewal and revival!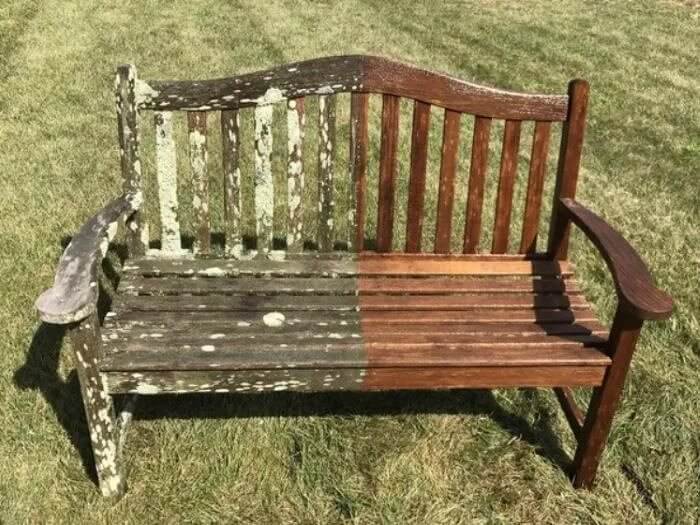 On the other side, the bench wears its years proudly, with the marks of time etched into its surface, a testament to the passage of seasons and the memories it holds!
A Spectrum of Honey Jars
Stacks of honey-filled jars present a delightful display of nature's palette. The meticulously arranged jars showcase the remarkable spectrum of honey's colors, transitioning from a light golden brown to a rich, almost black hue. The variation in color mirrors the diversity of honey flavors and sources. From the delicate sweetness of light honey to the robust and complex flavors of the darker varieties, this image celebrates nature's rich tapestry of flavors!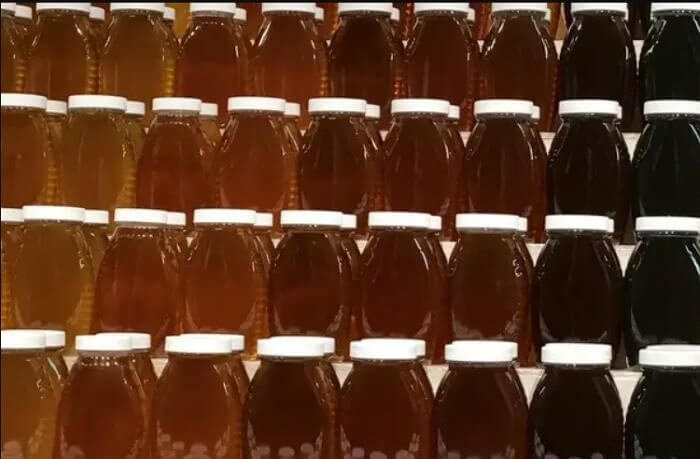 We are invited to savor the nuances of the natural world and appreciate the artistry that exists in something as simple and pure as a jar of honey!
You Better Not Take One From the Bottom!
This meticulously crafted pyramid of M&M candies stands as both a work of art and a mouthwatering temptation. Each candy layer, from the sturdy blue base to the striking blackish-brown tip, contributes to a vibrant and visually stunning creation. The progression of colors, transitioning from blue to green, yellow, orange, red, and finally to blackish-brown at the pinnacle, creates a mesmerizing gradient that delights the eye. It's tasty and tempting!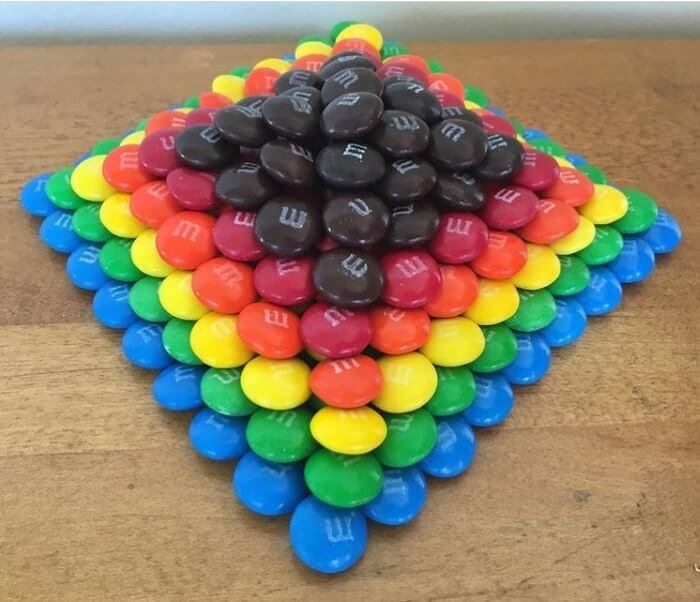 This image is a sweet celebration of both the art of confectionery and the joy of indulgence. The candies' glossy shells and vivid hues make them look almost too good to eat!
Just a Sunflower in All Its Glory
A sunflower takes center stage in this captivating portrait, radiating with a perfect, natural beauty that transcends words. Every detail, from the vibrant yellow petals to the rich brown center, is a testament to the awe-inspiring design found in nature. The sunflower's symmetrical structure and intricate patterns are a marvel of botanical artistry. Its petals, arranged in perfect harmony, seem to capture the very essence of sunlight, exuding warmth and vitality!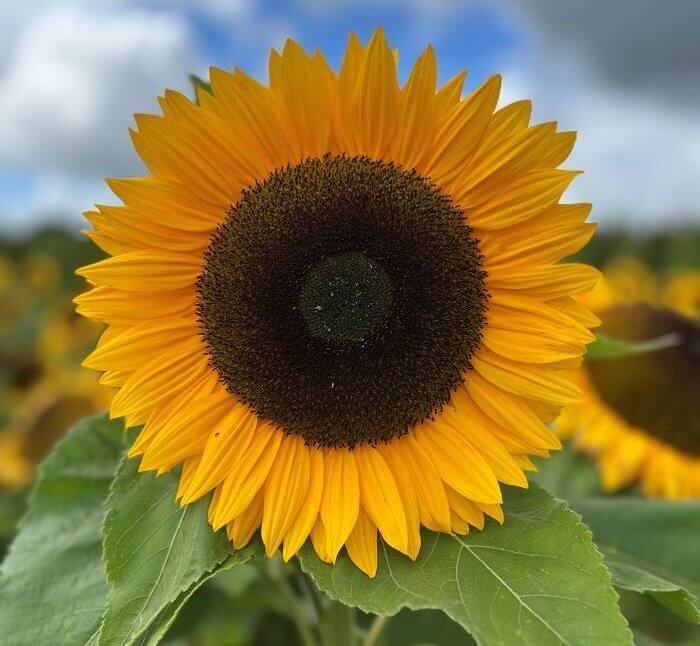 This image celebrates the breathtaking beauty that can be found in the simplest and most iconic of flowers—the sunflower. It reminds us of nature's ability to create a masterpiece!
Tools of the Trade Look Totally Cool!
A Milwaukee workbench and shelving display adorned with a striking array of red and black tools creates a visual symphony that defies conventional expectations. Amidst the rugged world of power tools, this display exudes a surprising and calming aesthetic. The precision and organization of the tools, their colors harmonizing in shades of red and black, transform the workspace into a visual masterpiece. Who knew such loud machinery could look so interesting?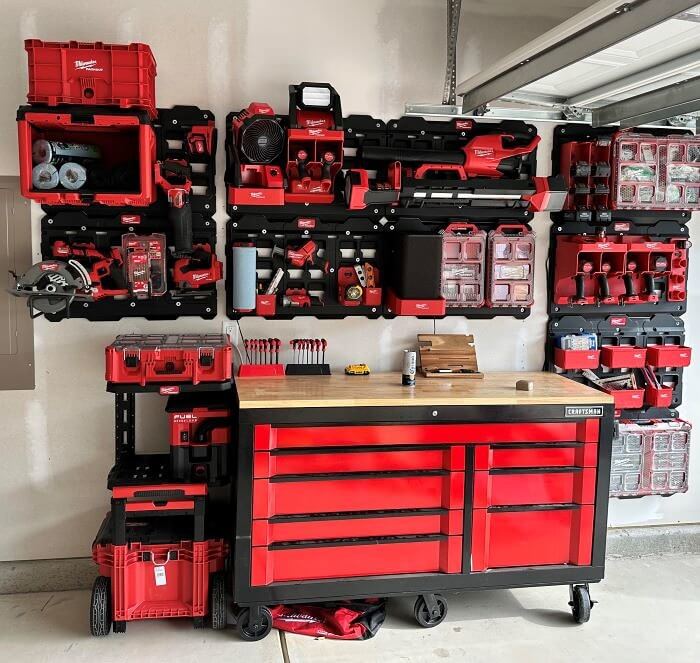 Even in the most industrial and functional environments, aesthetics can play a powerful role in shaping our perceptions. It invites us to appreciate the artistry found in tools of the trade!